Automatic electrostatic powder coating applicator
Product Description
Payment & Shipping Terms
Supply Capacity
Unit Price:
500.0 USD
Production Capacity:
5000 sets/year
Trade Term:
FOB
Packing:
paper carton or wooden...
Payment Terms:
T/T, WU
Delivery Date:
2-10 days
Min. Order:
1 Set/Sets
Means of Transport:
Ocean, Air, Land
PG 2-A Automatic Powder Gun


The extremely lightweight PG 2-A Automatic powder gun with an integrated high-voltage
generator has a very high penetration power and a high, constant transfer efficiency because
of its air-cleaned central electrode. The gun can be dismantled, making it easy to
maintain and repair.
Technical data of the PG 2-A and PG 2-AX Automatic Powder Guns
Rated input voltage: 10 V eff.
Frequency: 17 kHz.
Rated output voltage: 98 kV.
Polarity: Negative (Positive - Option).
Maximum output current: 100 mA.
Flash protection: Type A - according to EN 50177
powder coating equipment Function description
the powder gun through the powder hose . The powder is electrostatically
charged at the nozzle of the gun. In addition, an electrostatic field is
created between the gun nozzle and the grounded object. The charged
powder spray remains adhered to the surface of the object.
The powder is fluidized by air forced through a porous plastic plate from
below. The powder acquires, thereby, fluid-like characteristics.
The conveying air, supplementary air, and rinsing air are set on the control
Unit
And the Central automatic spraying control cabinetalso could avaiable
for 4 ~ 10 sets electrostatic powder coating spray equipments.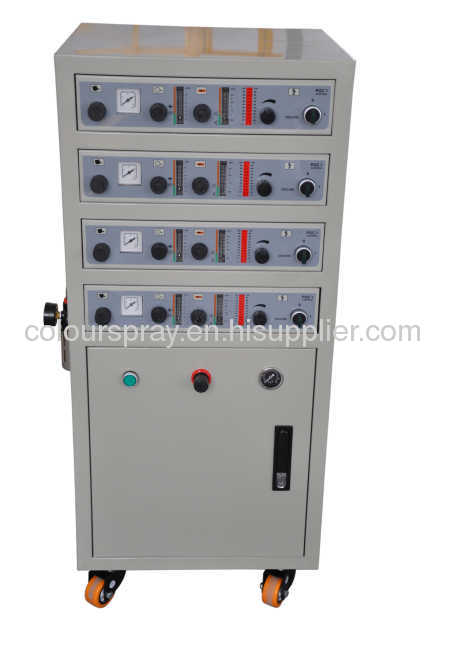 PGC Control module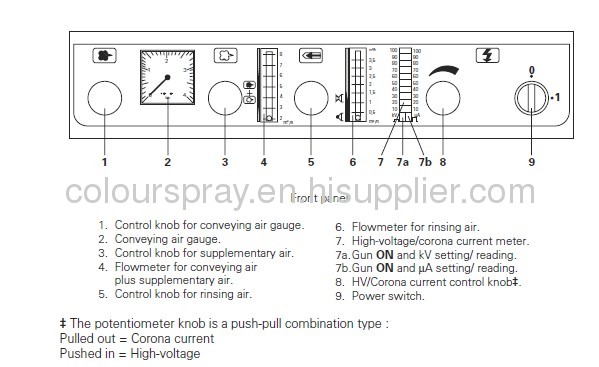 Gun complete
- Powder tube above (Polarity –) 361 690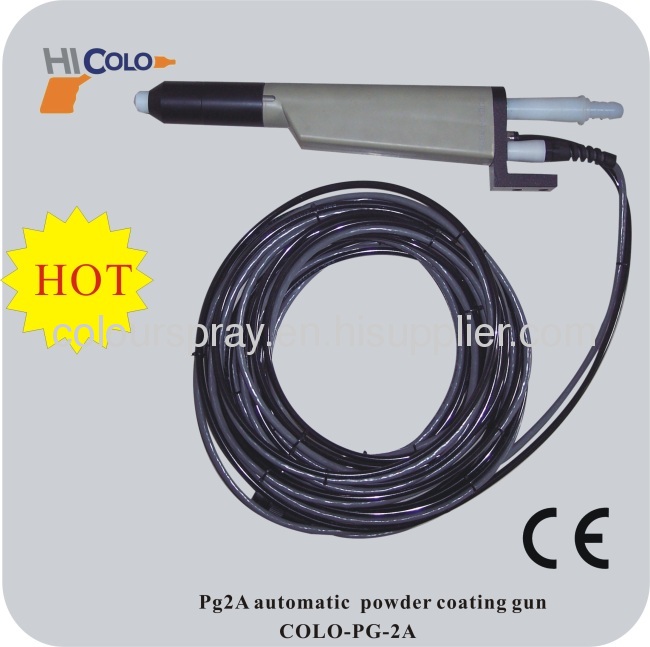 Nozzle combination for PG 2-A /PG 2-AX Automatic Powder Guns

Flat Jet Nozzle Set (items 1, 2, 3) 319 350
Round Jet Nozzle Set (items 1, 5, 6, 7) 347 337
1 Contact ring 318 760
2 Electrode holder - complete (Flat Jet Nozzle) 318 779#
3 Flat Jet Nozzle 318 744#
4 Threaded sleeve 328 774
5 Electrode holder - complete (Round Jet Nozzle) 347 329#
6 O-Ring - ø 5 x 1 mm 231 606#
7 Round Jet Nozzle 331 287#
8 Deflector - ø 16 mm 331 341#
9 Deflector - ø 24 mm 331 333#
10 Deflector - ø 32 mm 331 325#
11 Extention tube - 150 mm 347 310#
12 Extention tube - 300 mm 353 310#
auto spray paint machine
Auto Powder Spray Gun Lifter and China Reciprocator
Reciprocator for powder coating line
Move to a new level of powder coating efficiency with the Reciprocator.
Summary of Benefits:
Increased Uniformity Advanced digital control.
Smooth, Swift and Precise movement for speedy and uniform coating.
Reduce powder consumption.
Quick Job Change Pre-programmable preset settings for automatic selection of stroke and speed.
User-friendly touch screen control to control speed and stroke length.
Adjustable counterbalance weights allow perfectly balanced gun movement.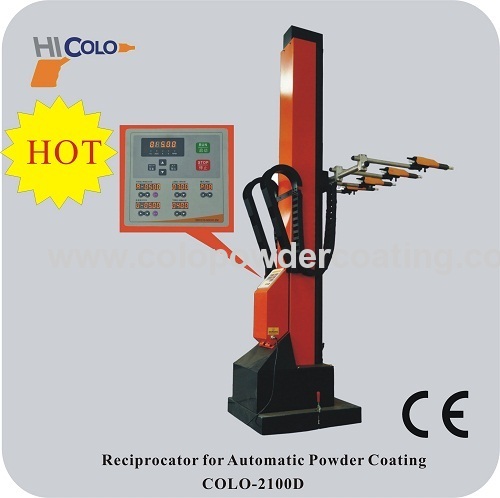 The product can be packed in wooden package or paper package based on your suggestion. Excellent package can avoid the breakage. About the machine, we usually ship within 7 days after receiving the payment.
COLO Powder Coating Systems is a top supplier of powder coating systems and powder coating equipment including automated powder coating machine, spray booths and spare parts
Category: automatic powder gun
Related Category: powder coating spray gun